Sweet Potato Toast: 3 Ways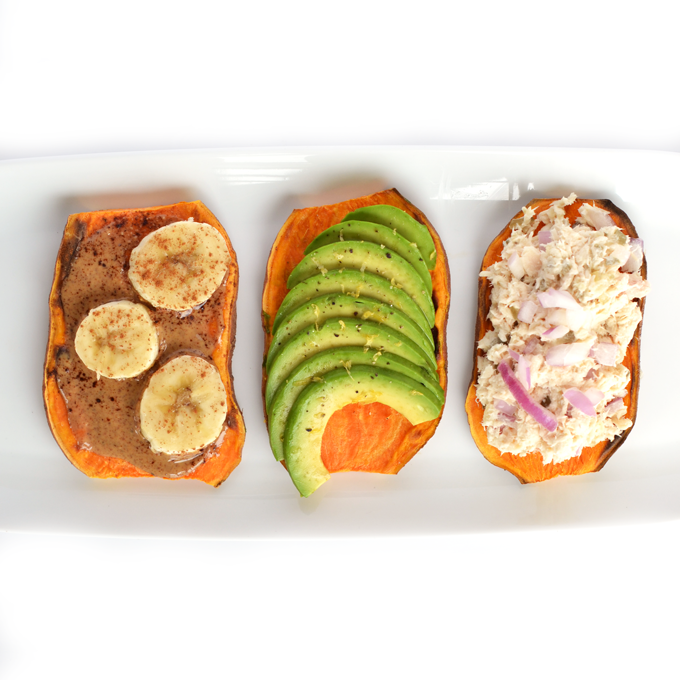 YEP I SAID IT – Sweet Potato Toast!  Can you tell I love sweet potatoes? Between my Breakfast Sweet Potat-"Oats" and my Caramelized Onion & Kale Twice Baked Sweet Potatoes, It seems I find a way to work them into this blog once a week!
A couple of weeks ago I woke up craving avocado toast and thought we had bread but WE DIDN'T!  So sad.  So I sliced up some taters, made my first sweet potato toast and posted it on my Instagram.  I knew that it was an awesome idea and although it doesn't really require a recipe, I had to share it with you!  I decided to try it with a few topping options and loved all 3 so much.
Avocado was an obvious choice as it goes well on anything – especially sweet taters.  So then I thought, what else do I love on toast?  Well there were really only 2 other things.  Almond Butter and Tuna!  Not together.  That would be a little scary.  Unless I made the almond butter into some kind of thai dressing and tossed it with tuna…. mmmmm see how my brain works? YUM.  These are PERFECTION for when I do a Whole30
or am trying to limit my grains!
I digress.  Almond butter goes with banana and cinnamon and the tuna gets a kick from relish and red onion.
So here is how its done:
How to make Sweet Potato Toast:
Step 1:  Slice sweet potato into toast like pieces (about 1/4 inch thick) and add to toaster.
Step 2:  Toast TWICE!  It took mine 2 rounds on high (could take 3-4 though!) in the toaster to cook through and result in this slightly browned "toast".  Here is the Cuisinart Toaster  I have:

Step 3: TOP!
Topping options for Sweet Potato Toast:
Avocado Toast:  Sliced avocado, salt, pepper & lemon zest.
Nut Butter: Almond Butter, banana slices and cinnamon!
Tuna! I added mayo, relish & red onion to mine but feel free to make it how you like it.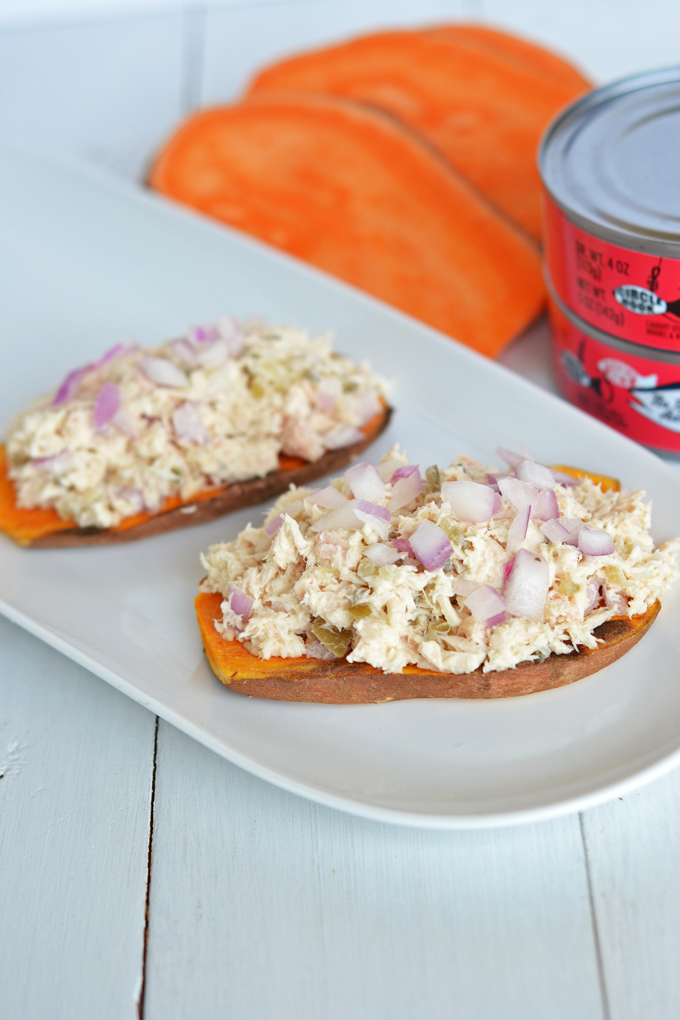 Nutrition for Sweet Potato Toast:
Sweet Potato Toast is a healthy, whole30 & grain free alternative to your favorite breakfast! Sweet potatoes are high in Vitamin A & C, much higher in these nutrients than White Potatoes are, so they are much more nutrient rich option!  Vitamin A assists with eye health and Vitamin C with immunity!  Eat sweet potatoes 2-3 times a week to reap the benefits!
For more recipes from me and a free e-book of three 30 minute dinners, click HERE!
And want everyone (or even just your dog) to know you love sweet potato toast?  Get the mug below and show your love!
Add this Sweet Potato Toast recipe to your Pinterest page now!
Enjoy this fun twist on toast?  Follow me on instagram for my daily kitchen creations!
Print
Sweet Potato Toast: 3 Ways
---
sweet potatoes
almond butter
banana slices
cinnamon
avocado
salt & pepper
lemon zest
red onion
relish
---
Instructions
To Make Sweet Potato Toast:
Slice sweet potatoes lengthwise into 1/4 inch slices. Add to the toaster like you would bread and toast on high. It took me 2 rounds to get it cooked how I like with a little bit a browning on both sides.
For Avocado:
Remove skin from avocado and slice. Add to toast and sprinkle with salt, pepper and some lemon zest.
For Almond Butter:
Spread some almond butter on toast and add sliced banana and a bit of cinnamon.
For Tuna:
I added 1 tablespoon of mayonnaise, 1 tablespoon relish and 1 tablespoon of diced red onion to a small can of tuna. Scoop tuna onto toast!
We are participant in the Amazon Services LLC Associates Program, an affiliate advertising program designed to provide a means for us to earn fees by linking to Amazon.com and affiliated sites.